MAKE SURE YOUR CHILDREN ARE TAUGHT TO SWIM!
Start them early at venues throughout North Devon.
All lessons are led by A.S.A qualified, experienced and C.R.B checked staff. There will always be an onsite National Pool Lifeguard trained member of the team, and water based teachers for beginners and nervous children.
BOOKING IS ESSENTIAL
Call Louise on (01271) 325181
Monday - Saturday between 10am and 7pm
Please leave a message if I am working and I will return your call
Fun parent & baby/toddler groups - 45 minute sessions includes playtime with toys
Beginner and improver Classes for school age+ @ ALL venues, ALL year throughout term time!
CLASSES
SPLASH: 6 months to 3½ years
- Parent Assisted

Structured fun sessions, using song and play in a warm and friendly environment with an experienced teacher on hand for advice and support. This is also an ideal class for first time parents or more nervous adults. All our classes are in line with A.S.A guidelines for adult and child water activities.

RIPPLES: 3½ years to 5 years
- Pre school

Fun lessons with small groups in all classes
(Ratio is a maximum 5 children to 1 adult). Teachers are water based to give extra support and confidence.

WAVES: School age+
- Beginners/Improvers/Advanced

Small groups in all classes. Lessons include: Stroke technique; Water skills; Personal survival; Basic water safety; Stamina training; Life saving skills. Older beginners always welcome and teachers are water based for all beginner classes.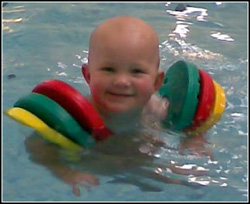 VENUES
Stowford Farm Meadows (Berrynarbour) EX34 0PW

Pool size 22m x 10m
30o minimum pool temperature

Monday 4.00 - 6.30
Tuesday 4.00 - 6.30

WAVES - School age +
Beginners
Improvers
Water Skills
A.S.A Levels
Stamina training
Bronze, silver and gold + honours challenge awards
Personal survival
Adult swimming lessons*
(beginners and improvers) *dependant on group size
Adult swimming available during some lesson times

Calvert Trust
(Kentisbury) EX31 4SJ

Pool size 12.5m x 5m
32o minimum pool temperature

Monday 12.00 - 3.00

SPLASHTIME - parent assisted
(6 months - 3½ years)
RIPPLES Classes
(3½ years - starting school)
Very warm pool - ideal for young babies

Saturday 10.00 - 1.00

WAVES - School age +
Beginners
Improvers
Stroke technique

Knapp House Activity Centre (Bideford) EX39 1NT

Pool size 13m x 6.5m
31o minimum pool temperature

Wednesday 4.00 - 6.30
Thursday 4.00 - 6.30
Friday 4.00 - 6.30


WAVES - School age +
Beginners
Improvers
Personal survival
Stroke technique





In association with BUMBLES (www.bumblesmusicgroup.co.uk)